Giving Back To Our Communities
Public Boating Courses
Members of the Saginaw Bay Power Squadron are involved in several civic activities. Most recognizable are the Boating Courses which we conduct for members of the public. We present America's Boating Course several times during the year in a classroom environment where adults can gather to increase their skills in boat operation and handling, while meeting others with similar interests. Many lasting friendships have been formed, and valuable experiences shared by those taking our classes. The environment is relaxed and fun, yet there is serious learning taking place. More on the Public Boating Courses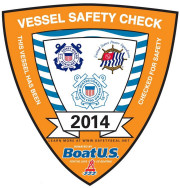 Vessel Safety Checks
In Spring 2000, the United States Power Squadrons joined with the United States Coast Guard Auxiliaries to develop a new program to provide free safety inspections of boats for the boating public.

Our Saginaw Bay Power Squadron has been a leader in implementing this program. We have an on-going training program to qualify our members to conduct free safety inspections. Look for our members at marinas and local launch ramps this summer.

Updating NOS Navigational Charts
Squadron members throughout USPS take part in cooperative charting. Through this effort, we work in conjunction with the National Ocean Service to update nautical charts and save taxpayers millions of dollars by reporting corrections. We observe and document errors in charts as we navigate the country's waterways, and send in reports so that the corrections may be confirmed and included in the next printing of the charts, as well as posted in Notices to Mariners, where applicable.